Bernie Christine Mathes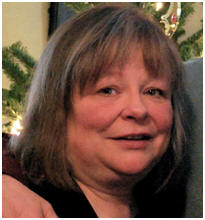 Bernie Christine Mathes was born on March 11, 1950, in Des Moines, Iowa to two educators. Her father, Rex Mathes, was the principal of the local elementary school, which was later named after him, and her mother, Bernadine Royer Mathes, was an accomplished musician and organist.
Bernie was the drum majorette and voted one of the top 10 seniors at her large high school in Iowa. She met her husband, Lincoln Gray, during a shuffle into coed dorms in early 1970 at Carleton College in rural Minnesota. She received a M.S.W. degree from Michigan State in 1975 and worked as a clinical social worker at what became the Kluge Children's Rehabilitation Center in Charlottesville. Her family moved to Houston, Texas, in 1982, where Bernie rose from a part-time preschool teacher to head of the School Literacy and Culture Project at Rice University. In 2005, a job for Lincoln brought her to The Valley, where she flourished, establishing many friendships, leading the Harrisonburg Unitarian Universalist Congregation, and supporting a wide variety of other communities. She worked briefly on the mental health unit at RMH and then as the social worker at the Harrisonburg-Rockingham Free Clinic, where she worked up to the day of a diagnosis of a malignant brain tumor seven weeks ago.
Bernie is survived by her husband of over 35 years, Lincoln Gray, a professor at JMU; daughter, Katherine Gray of Staunton, chair of the math department at Fishburne Military School; daughter, Emily Collins, a doctoral candidate in economics at the University of Michigan; son-in-law, Greg Collins, an instructor in pharmacology at University of Texas, San Antonio; and sister-in-law and niece, Linell and Lucy Moss, who lived with her for the last year. Her parents and sister predeceased her.
Bernie was known for her caring, compassionate people skills. As the tumor grew and caused increased confusion, she continued to worry about those she cared for both personally and professionally. She was the epitome of grace as her life ended, ever grateful for her many blessings.
A service to celebrate Bernie's life will be held at the Montpelier Room (above 'E-hall') at JMU at 2 p.m. on Sunday, May 6, followed by a potluck at Hillandale Park, Shelter 5 (weather permitting). If you wish to contribute to a memorial, the family suggests donations to The Bernie Mathes Youth Scholarship, Harrisonburg Unitarian Universalists, 4101 Rawley Pike, Harrisonburg, VA 22801, or The Bernie Mathes Assistance Fund at the Harrisonburg-Rockingham Free Clinic, 25 W. Water St., Harrisonburg, VA 22801.
Eulogy: Mother to Many by Rev Emma Chattin
Words for Bernie by David Lane