Chalice Lighter Program of the UU Thomas Jefferson District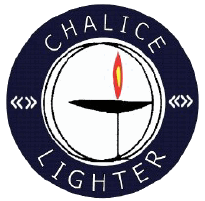 Be a TJ District Chalice Lighter. The program is a way for ALL of us - members and friends - to help out other UU churches in a small monetary way. No more than three times a year Chalice Lighter members will receive a letter explaining who has applied for a call (grant) and how the funds will be used.
Congregations may receive grants for calling a UU minister, purchasing land or renovating current property, establishing a Campus Ministry, or hiring a professional staffer, or proving funds for a new congregation.
Wouldn't you like to be a part of this program? By agreeing to be a Chalice Lighter, you pledge to respond with a $10 donation three times a year. These appeals for financial commitment are issued through the Thomas Jefferson District. Pledge now and you will receive a blue sticker to put on your name tag.
"You possess only a small light, but uncover it, let it shine. Use it in order to bring more light and understanding to the hearts and minds of men and women. Give them not hell, but hope and courage."-- John Murray -- Founder of Universalism in America
For more detailed info visit the
Southeast District Chalice Lighter Site
Download a chalice lighter application in pdf format.