Guest Speaker Biographies
Ken Nafziger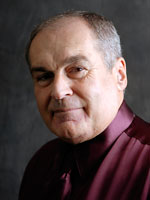 Kenneth Nafziger is a professor in the Music Department of Eastern Mennonite University and was a post-doctoral conducting student with Helmuth Rilling in Stuttgart-Germany. He is artistic director and conductor of the annual Shenandoah Valley Bach Festival (Harrisonburg, Va.), and of the chamber choirs Musica Viva (in Winchester, Va.) and Voce (in Reston, Va.). Between 1999 and 2003, he made numerous trips to Cuba, where he was a guest orchestral and choral conductor, taught courses and workshops, and led EMU Chamber Singers. He is active in the United States and Canada as a guest conductor, workshop leader and clinician.
Rabbi Joe Blair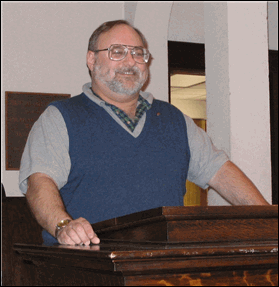 Joe Blair was raised in Fairfax county (Northern Virginia). He attended the University of Virginia for his Bachelor of Arts and Master of Computer Sciences degrees, then went on to attend the Marshall-Wythe School of Law at the College of William and Mary. He worked for more than a decade in software engineering for a variety of consulting, high-tech, and telecommunications firms, after a very brief stint as a general practice attorney.
In 1990, he decided to attend rabbinical school. He graduated from the Reconstructionist Rabbinical College in Philadelphia, where he earned a Master of Hebrew Letters degree and was ordained, concluding his schooling in 1996. During his five years of studies, Rabbi Joe held several pulpits, taught Hebrew school, served on the editorial staff of the Reconstructionist Prayerbook Commission which produced the Kol Haneshamah Siddur series, and edited numerous publications, as well as contributing materials to a number of books and other publications. He served on the editorial staff and commentator for the Kol Haneshamah Series of Siddurim for Chol and for Shabbat VeChagim. Rabbi Joe was the co-editor of God's Paintbrush: A Guide for Jewish and Christian Educators and Parents. He has remained active over the past ten-plus years as an editor, copyeditor, indexer, and proofreader for a variety of Hebrew and Hebrew-English publications, including the Hebrew-English Tanakh (Hebrew Scriptures) published by the Jewish Publication Society, the revised Plaut Torah commentary published by the CCAR, several volumes in the series on the Talmud by Gamoran, and an ongoing series translating the Zohar authored by Daniel Matt, published by Stanford University Press. He was the editor in chief and a writer for the Gesher VeKesher Education Newsletter, and co-editor and a contributor to the books Windows on the Jewish Soul and Connecting Prayer and Spirituality.
Upon graduation from seminary, Rabbi Joe entered into the academic world as Executive Director of the Duke University Hillel. After three years at Duke, Rabbi Joe was recruited to return to the University of Virginia Hillel in Charlottesville. After his second year back in Charlottesville, Rabbi Joe left Hillel and went to work for the Lexis-Nexis Legal Publishing division of Matthew Bender (the old Michie Company) for a short period, during which time he also served as rabbinic advisor to the Hillel at Washington and Lee University and taught Judaica in Charlottesville.
In August of 2003 Rabbi Joe returned full-time to the pulpit at two congregations in the Shenandoah Valley, in the towns of Staunton and Harrisonburg, splitting his efforts between them. Rabbi Joe has remained in this peripatetic role since, and is delighted to serve as the spiritual leader for the Jewish communities of Staunton and Harrisonburg and the surrounding area. He can be contacted through the congregations, both of which can be found online through the Union for Reform Judaism website.
Over the period from 1995 to 2009, Rabbi Joe was a team member, and served as the coordinator of the Ask a Rabbi Web Project, leading a group of outstanding rabbis from all denominations in answering thousands of questions on Judaism and Jewish subjects submitted by people from all over the world. The project ended with the closure for business reasons of the hosting site. In recent months, he has been involved in the development and administration of a new website (www.jewishvaluesonline.org) providing responses to questions concerning Jewish Values and Ethics.
Rabbi Joe is a member of both the Reconstructionist Rabbinical Association (Reconstructionist) and the Central Conference of American Rabbis (Reform). He lives in Charlottesville with his wife, Karen and their eight (at present) eccentric dogs. He has one daughter who is married and expecting her first child soon.
Rabbi Joe is fortunate to be married to a wonderful and understanding woman, a true life partner; they live together in Charlottesville with their eight eccentric dogs. They have one daughter, who is married and expecting her first child.
Jim Bishop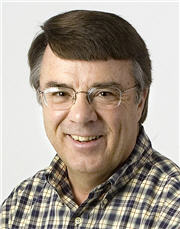 Originally from Doylestown (Bucks County), Pa., Jim Bishop graduated from Eastern Mennonite University with a BA degree in English in 1967. He was an editor-writer four years for the former Mennonite Board of Missions, Elkhart, Ind., then returned to his alma mater in the role he has held since 1971. He took graduate courses in communications at James Madison University during the 1981-82 academic year.
As public information officer at EMU, he manages the news bureau, writes articles for various university publications and other print materials, does photography and handles the on- and off-campus queries that no one else wants to deal with. He hosts the "Friday Night Jukebox," a 50s music show on WEMC-FM, and the "EMU Activities Report" on WBTX, 1470 AM, every week. He writes a weekly column, "Bishop's Mantle," for the Harrisonburg Daily News-Record, an occasional column, "Virginia Ham," for Mennonite Weekly Review, and is a regular contributor to "HealthQuest" magazine published by Rockingham Memorial Hospital.
Jim is fortunate to be married 41 years to the incredibly patient and gentle (I am high maintenance) Anna Mast Bishop, whom he met during their college days and somehow persuaded to form a long-term relationship. Anna is a veteran kindergarten teacher in the Rockingham County School System and will be transferring to the new Cub Run Elementary School this fall. Daughters Jennifer (Hummel) and Sara (Kiser) live in Weyers Cave and suburban Hinton, respectively, and between them we have the privilege of spoiling six grandchildren. Jim and Anna are active members of Community Mennonite Church in Harrisonburg. Jim is an avid collector of vintage music and animation (Warner Brothers, MGM and Universal), country line dancer (Leather and Lace) and hopeless nostalgic.