Pulpit Flowers
Each Sunday of the church year, a floral arrangement is placed on the table at the base of the pulpit. Quite often in the Spring, Summer, and Fall months, the flowers come from our "flower lady's" garden. Barbara Moore is the "flower lady."
If you would like to donate flowers or funds for flowers for the Sunday service, please contact Barbara <BarbaraSMoore at comcast.net>. You might choose to donate flowers in celebration of a special occasion or in memory of someone or some event.
The flowers shown below are just a few samples of the magic that is worked by Barbara.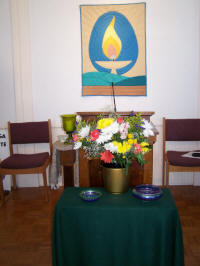 Flowers donated by Elinor Fankhauser in honor of what would have been Elinor and Don's 50th wedding anniversary.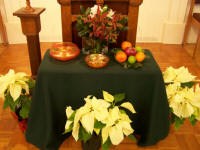 Christmas Flowers