HUU Social Justice Committee
The Harrisonburg Unitarian Universalists Social Justice Committee meets after the service on the 2nd Sunday of each month. For more information, contact Chris Edwards. To send a message to the Social Justice committee, email
.
HUU members, shown in the kitchen of Emmanuel Episcopal Church, provided and served a dinner for guests at the Open Doors shelter on Feb. 14.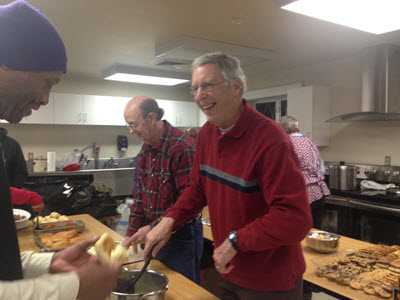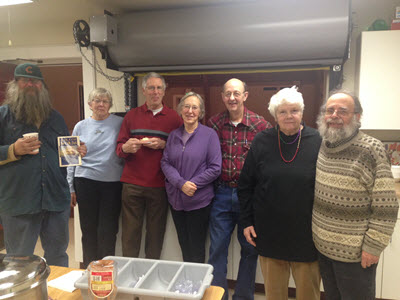 Left or Top: Guest Alvin McIntyre with UU's Charlie Strickler and Bud Dirscherl Right or Below: Guest Mark Caherty with UU's Linda and Bud Dirscherl, Cathy and Charlie Strickler, Chris Edwards and Robin McNallie
Recent Social Justice Committee activities:
Some of the past activities this past year:
Preparation of travel bags for immigrant children facing deportation.
Correspondence with prisoners
Continuing Activities include:
Dana Offerings
On the third Sunday of every month, we designate a local service organization to be the recipient of our offering, called the Dana offering. The term Dana (DAH-nuh) signifies the practice of giving as taught by the Buddha. Our collections have benefited many local service organizations, such as the Gemeinschaft Home (a therapeutic community assisting former prisoners), First Step (the local shelter for victims of domestic violence), the Gus Bus (an early childhood literacy program), Our Community Place (OCP), the Boys and Girls Clubs of Harrisonburg and Rockingham County, Harrisonburg International Festival, Skyline Literacy, Special Olympics, Friends of the North Fork of the Shenandoah River, and a local no-kill animal shelter.
Feeding the Community
On the first Sunday of each month, when we traditionally feed ourselves with a potluck dinner, we also bring food to donate to our local food pantry, the Patchwork Pantry, for people in Harrisonburg and Rockingham County who are in need. In these tough economic times, demand has risen sharply at the Pantry, as at most nonprofits. The Pantry has been in operation for more than 20 years, and now gives approximately a ton of food away per week. This all-volunteer, interfaith organization is housed at Community Mennonite Church. Details: http://www.cmcva.org/patchwork-pantry.html.
If you miss a first Sunday, items can be left in the cart at any time. Those most needed now are beans, peanut butter, jelly or jam, cereal, fruit, beef stew, macaroni & cheese, spaghetti, and spaghetti sauce, and soup, though any non-perishable foods are welcomed. Nonfood items are also accepted (paper towels, disposable diapers, especially size 5, toilet paper, facial tissue, bar soap). Donations are taken to the Pantry after each potluck Sunday. Cash donations and checks made out to Patchwork Pantry will also be welcomed – and you may bring garden produce directly to the Pantry in summer.
Execution Vigils
The Unitarian Universalist Association has officially opposed capital punishment for more than 40 years. HUU began holding vigils during each execution when Virginia resumed executions following a court ruling in 2008. We gather on the southeast corner of the courthouse lawn in Harrisonburg beginning between 8:30 and 8:45 pm (half an hour before the 9 p.m. scheduled execution time) to mourn the violence: both the killings of murder victims and of those people who are, in turn, killed by our state government. All are invited to join us in these vigils. These events have drawn representatives from other churches, received substantial local newspaper and TV coverage, and given rise to thought and dialogue.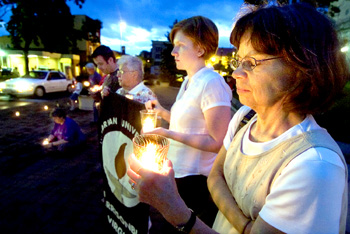 For details on anti-death penalty advocacy, see Virginians for Alternatives to Death Penalty, http://vadp.org/ and the website for Unitarian Universalists for Alternatives to the Death Penalty, www.uuadp.org/.
Welcoming Congregation
The UUA Welcoming Congregation program is designed for congregations that desire to become more inclusive towards bisexual, gay, lesbian, and/or transgender people, educating themselves through a series of workshops. (See http://www.uua.org/leaders/idbm/lgbt/welcomingcongregation.) HUU is proud to be a welcoming congregation.
Fair Trade Program
The Fair Trade sales program is a long-established activity that grew out of our committee. Fair Trade products, sold through a nonprofit organization, earn Third-World farmers a living wage. After church every other Sunday we now sell coffee, tea, chocolate bars, and other fair trade products. Martha Sider manages the fair trade store at HUU.
Community Involvement
We like to get UU's together volunteering for community projects. We also encourage members to join the Unitarian Universalist Service Committee (UUSC), which serves a global population. (Visit http://www.uusc.org for information about becoming a UUSC member.)