About Us - Harrisonburg Unitarian Universalists
Sunday Services
We are a lay-led congregation offering diverse perspectives on spiritual renewal in the Shenandoah Valley.
Our Sunday morning worship service begins at 10:30 AM at the historic Dale Enterprise Schoolhouse building on Route 33 West in Harrisonburg, Virginia. (More detailed directions and a picture of our church)
Children usually sit in our sanctuary at the beginning of the 10:30 am Sunday service. Early in the service, we "Sing out the Children," and then the youngsters exit to attend the Children's Religious Exploration (from

September to May

.) For more info, see the Children's Religious Exploration page.

The service theme is listed on the Sunday services page of our web site.
There is plenty of parking and our church is handicapped accessible.
There is no dress code at our church. You are as likely to find sweaters and blue jeans as you are a shirt and tie or "Sunday Best" attire. We want you to come however you feel most comfortable.
---
Coffee Hour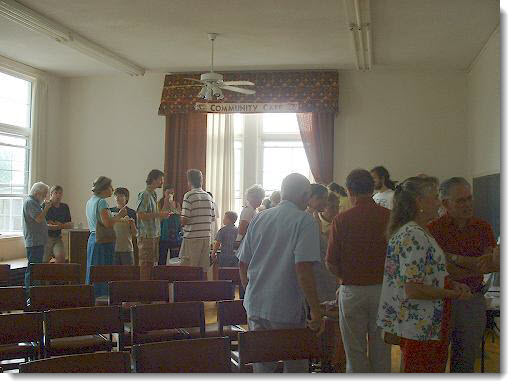 We welcome all visitors and friends to join us after the service for coffee in our Community Café. This is a time for people to renew acquaintances, catch up with old friends and make some new ones! You can learn more about who we are and how you might be involved in our Unitarian Universalist community. On the first Sunday of each month, we have a potluck meal after the service. Everyone brings a covered dish to share.
---
Whom to Contact
Colleen Kivley, Administrative Assistant/Bookeeper (540) 867-0073
Wonshé , Congregational Life Coordinator
Contact all Board Members