Building Use/Renting Space at HUU
Facilities Rental and Rental Agreement

The Harrisonburg Unitarian Universalist buildings, located on 5 acres near Dale Enterprise (4 miles west of the city center of Harrisonburg on SR 33), offer numerous possibilities for hosting your gathering, meeting, workshop or family celebration. Ample yard space is available and has been used for overnight camping. Housed in a historic building, the sanctuary room (23.5' x 61.5') with its wood floors and large windows has successfully adapted its use for weddings, concerts, craft sales and dances.
We have comfortable seating for 100 (100 chairs + 10 tables that can comfortably accommodate 10 people each). We also have at least 50 folding chairs, as well as a piano, PA system, lectern, and ceiling fans. Adjacent to the sanctuary is an equipped kitchen with refrigerator, stove, sink, microwave, and large coffee pots. There are separate bathrooms for men and women and a carpeted meeting room (14' x 15') with wipe off presentation board, table and chairs and TV/VCR.
Behind the main building is our annex. On one side of this building there are two small meeting rooms one of which currently serves as a nursery and houses children's toys, playpen, changing table and rocker. One large meeting room on the opposite side has a separate entrance from the outside deck. Two bathrooms and a kitchenette area with cupboards and a sink are in the center of the building. Both buildings are available for rent, either together or separately.
Most areas are accessible to the physically challenged.
---
Would you like to book one of our spaces?
Our many and varied spaces are available to groups whose principles do not conflict with our values of freedom and dignity for all.
We'd be pleased to have you view our building and discuss your use of our space. We offer reasonable rates for the function you are planning. The Booking Application Form, Rental Costs Schedule and Building and Equipment Usage Policies are retained by the Administrator and provided to those requesting use of the building.
The on-line calendar will let you check and see if the building and/or the RE building is available. (For a larger image, click on any of the small pictures.)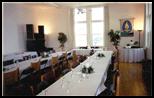 Main Sanctuary Set up for wedding reception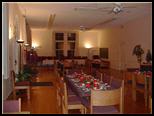 Main Sanctuary Set up for Christmas Party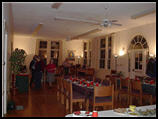 Main Sanctuary Set up for Christmas Party.
Please check with the HUU Office about building use.